This COVID-19 guide is free to all.
|

no opt-in or purchase necessary.
Thriving
through


uncertainty
LET'S CREATE YOUR OWN "CRISIS PROTOCOL"
Step 3: Extend care in layers
As the business begins to stabilize in maintenance mode, you'll feel yourself breathing a sigh of relief. There is a calm that comes over the business once you can sense that the business is going to be okay. 
Remember that analogy we mentioned earlier about putting your own oxygen mask on first in case of an airplane emergency? You have to put yours on first so that you don't pass out before you can help the people around you. The same is true here. We've been working to put the "oxygen mask" on you and your business first. So before we move on to the thriving phase in this Crisis Protocol, let's pause and look around to see who needs help putting on their own masks. 
In other words, now that you have cared for the business, it's time to extend that care to your people. Because now that YOU are okay, we need to make sure that your people are okay, too. 
At first, you might not have a lot of extra capacity to check in on a bunch of different people, so we recommend checking in with your people in layers.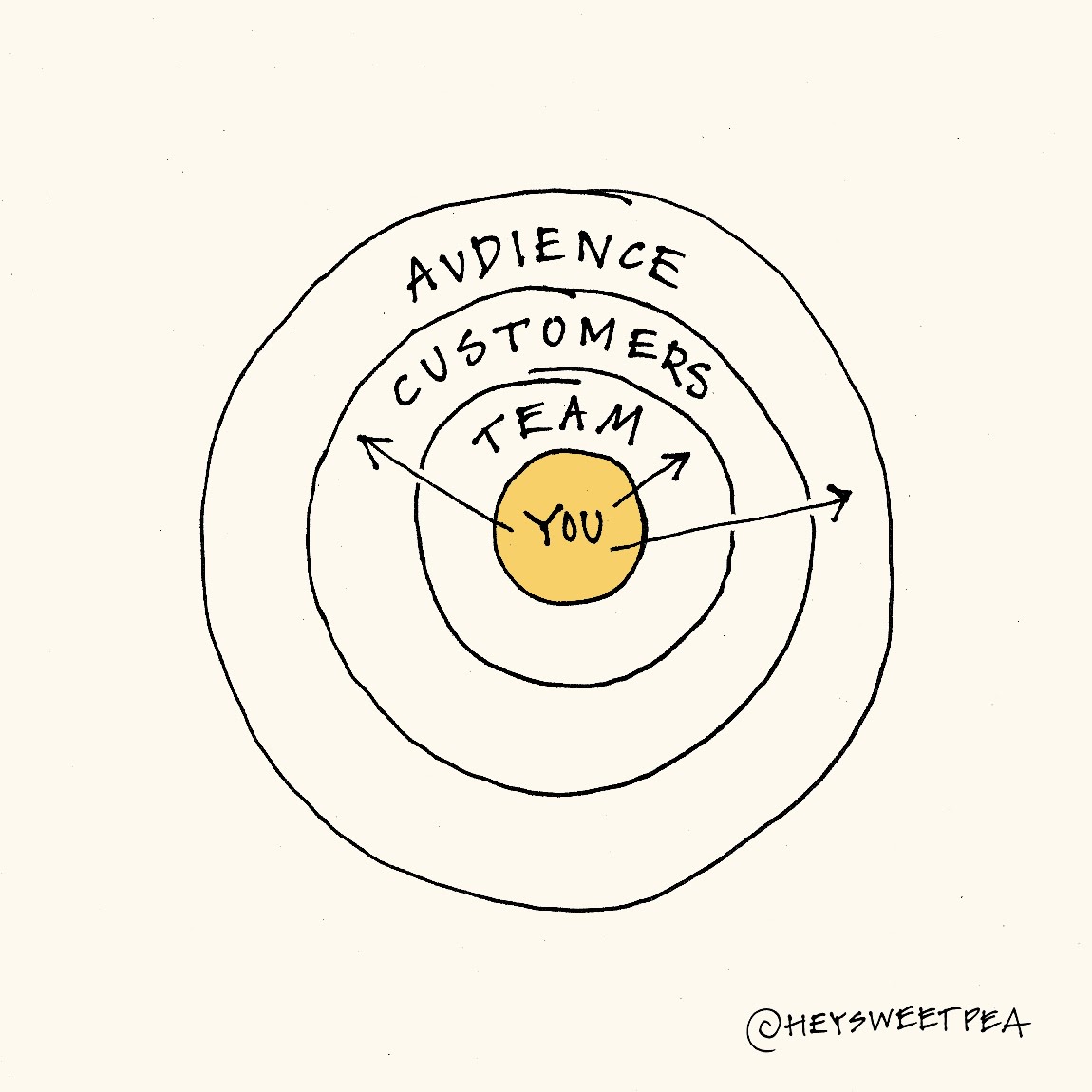 Layer 1: Team members

— Check in on their safety and well-being. Make sure they feel valued and communicate your willingness to support them as they continue to support you and your business in this season. You'll also need to communicate

any changes

happening in the business so that you can keep them focused on the most important tasks at this time.

Layer 2: Current customers

— Communicate with them regarding fulfillment of their product/service. Your clients are the people who are most committed to you and your brand, so caring for them is a high priority. Let them know you are here to support them through this season. This is your chance to provide 5-star customer service.

Important Note: When communicating with your customers and team, we recommend using some of the grief-informed tools we already shared. You want to stay vulnerable, empathetic, open, and futuristic to keep morale high.

Layer 3: Audience

—

Once you've extended layers of care to yourself, your team, and your current clients, you can then extend care outwards

to new potential customers and colleagues (i.e. your wider network, audience, and community). But remember:

there is no rush

. Stay gentle with yourself and mindful of your capacity. Check in on yourself, your nervous system, and your spoon level.
Please keep in mind: communication may be strained in times of crisis, so you'll want to stay gentle and open. Remember, everyone around you is going through trauma, grief, and uncertainty in their own way. It's important to remain kind and compassionate.
We recommend incorporating grief-informed questions such as, "How are you feeling today?" since this is a neutral, non-threatening question which:
Allows them to share how they're really feeling/doing (since this question doesn't influence what/how they "should" be feeling right now)

Gives you precious and valuable information re: their current emotional, physical, and mental state (so you can pivot or adjust accordingly)
Using the trauma and grief skills you learned in Phase 1, the first thing to do is

analyze your current capacity.

If you have enough capacity to start reaching out to people, check in with your team first.

Then, if you still have capacity, check in with your customers.

If you have capacity beyond that, then check in with your audience. When you're ready to start sharing via email or social media, I would

read this

for guidance on some best practices and COVID-19 specific tips.
Reminder: There is no hidden email opt-in or upsell offer. Every layer of this process will be covered in detail for FREE within this resource.
Disclaimer: None of the information provided in this guide constitutes financial, legal, or medical advice. For complete disclaimer, please review our
terms and conditions
.