This COVID-19 guide is free to all.
|

no opt-in or purchase necessary.
Thriving
through


uncertainty
LET'S CREATE YOUR OWN "CRISIS PROTOCOL"
Phase 2:

Stabilize your business
Thriving Through Uncertainty means taking stock of where you and your business are right now and creating new levels of predictability and stability for yourself moving forward—even when there's a lot happening outside of your business that's beyond your control.
Whenever we experience a crisis of any kind—whether personal or professional—it can cause a domino effect of anxiety, stress, and panic, especially if your business is your only source of income and you haven't had to implement a Crisis Protocol before.
But here's the good news: If you've done the work in Phase 1 to stabilize yourself, you are READY to be the CEO your business needs you to be right now. 
** Side note: We are HUGE fans of this brilliant Facebook post (from Todd Herman) about the differences between fear-focused CEO's, un-focused CEO's, and strategy-focused CEO's in the midst of COVID-19 ** 
As we shared earlier on in this guide, there are 3 steps to stabilizing your business in the midst of a crisis. We will walk you through each step in detail (so you know WHERE to invest your time, energy, and resources in this season), but what we want you to know first and foremost is: Even though this crisis has left so much chaos in its wake …
Your business does NOT have to stay in a state of chaos.
Seasons of crisis always shine a light on everything that wasn't working in the business before the crisis. They also sometimes "break" parts of the business that were actually working well.
Please, please, please remember: This does not mean you have done anything wrong.
You are NOT to blame for this crisis.
You are NOT to blame for what's breaking in your business.
You are NOT to blame for the stress and anxiety you are feeling right now. 
So if you're carrying around any guilt, embarrassment, or shame for how you're "failing as a CEO," I want you to leave all of that at the door and focus instead on just one thing: Using the knowledge you now have to build the strongest, leanest, and most resilient version of your business … so that it can withstand anything that comes its way in the future.
So with all that said, let's get started …
Step 1: Future-proof your finances
The first step to strategizing on behalf of your business is assessing your current financial situation. Then, once you have the lay of the land, you can start caring for your numbers by making smart, strategic CEO decisions that'll future-proof your business and create a new level of predictability, safety, and security for you moving forward.
To analyze your business financials, start by asking the following questions:
How much

cash reserve

do I have?



Are there

outside funds

that I can access if needed? 

Note: This might include a business credit line, your personal savings, a 401k, an asset that can be sold, a family member who's offered you a loan, etc. Knowing where you can pull money from

in case of an emergency

helps to create extra layers of safety for your business. This is never option A, but when you're creating a Crisis Protocol, it's important to know all your options.




How much

revenue

is coming in now, or in the near future?



What am I

currently spending

money on (i.e. where is the money going)?



How long can my business continue

to operate based on the money coming in and the cash available?

To make it easy for you to calculate and analyze all of this financial data, we've created a custom Financial Assessment Calculator!

Get immediate access to this free calculator HERE.

Yes, this financial calculator is 100% free. No opt-in or purchase necessary. To access it, all you need to do is click the link above and select "Make a Copy." In turn, this will create a private version of the spreadsheet (within your own Google Drive) where you can safely and securely enter your data.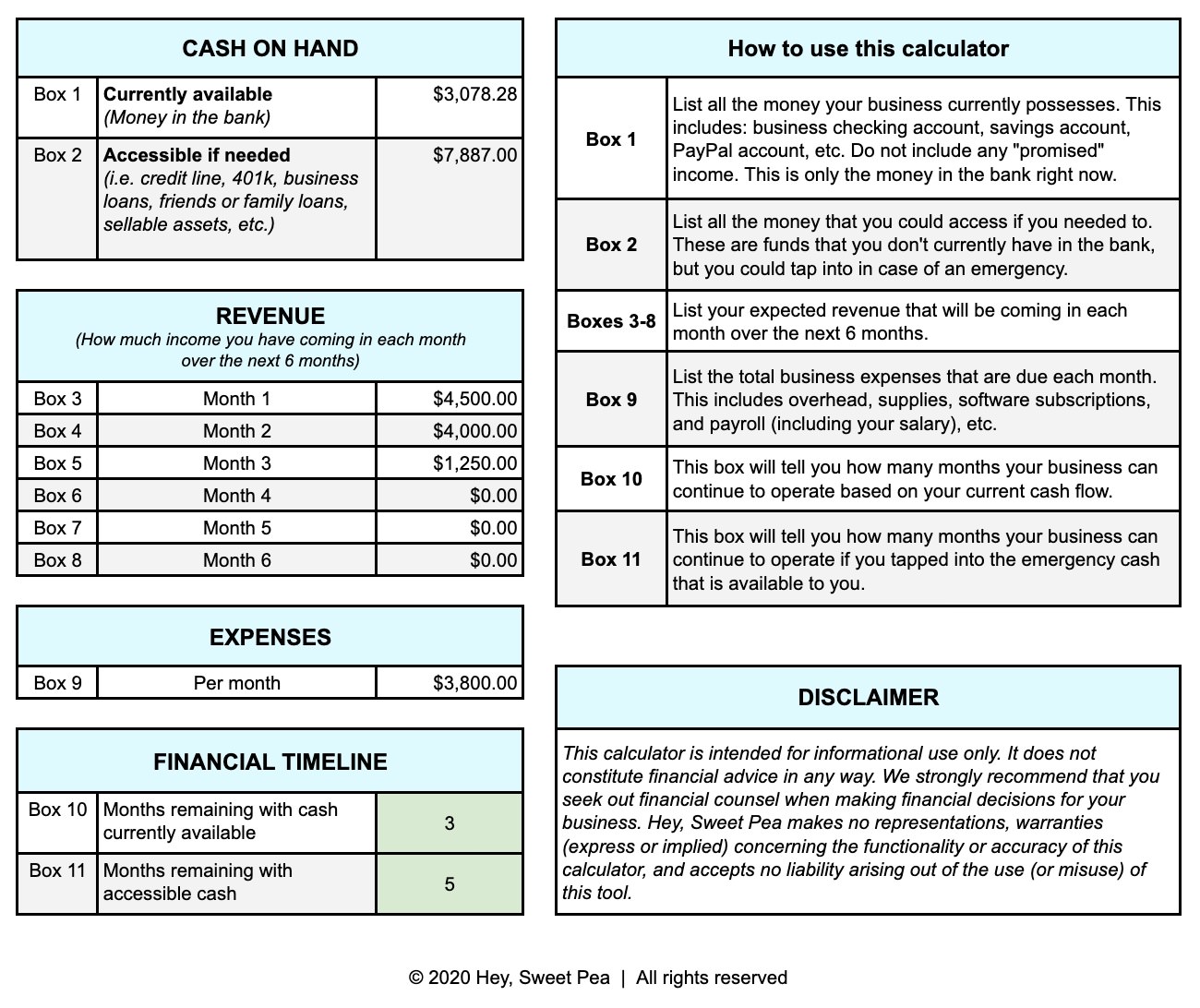 Please, please, please remember: If your numbers are not what you want them to be right now …
Do NOT worry.
Do NOT panic.
Do NOT shame yourself.
Do NOT judge yourself.
Money is always a math problem and there is always a solution.
As a part of this Crisis Protocol, you will create a strategy for how to improve these numbers going forward, but before we can improve your numbers, we need to know where you're starting. This way, you will have all the information (and tangible data) you need to make wise financial decisions now AND in the future.
Create a copy of the calculator we provided. Once you've created your own copy, no one will be able to see what you enter into the calculator but you. Take a few minutes to complete the calculator so that you can see—at a glance—where your business stands financially.

Remember, if these numbers are not what you want them to be, that's okay. As we work to improve your numbers in the next few steps, you can return to this calculator and update your numbers to reflect these improvements. Which means, from here on forward, you'll be able to track and see your business as it recovers and grows in real time!
Reminder: There is no hidden email opt-in or upsell offer. Every layer of this process will be covered in detail for FREE within this resource.
Disclaimer: None of the information provided in this guide constitutes financial, legal, or medical advice. For complete disclaimer, please review our
terms and conditions
.