We're excited to hang out!
But before we do, read through the guidelines below.

1 &nbsp|&nbsp We can only add people to the Facebook group whose names match the exact registration name. So if you use a nickname or maiden name on your Facebook page, we won't be able to approve you. If this is the case, please send us an email so we can be sure to confirm your identity.
2 &nbsp|&nbsp Please do not add or message Elise or Scott's personal accounts. It's not that we don't love you (you know we do) but our private accounts are for personal friends and family. Please also be very respectful of other members and never email or message them without direct permission.
3 | This group is not a place for technical support, complaints, etc. about MOIB. If you need admin support or have any issues, reach out to us via email.
If you see someone seeking technical or program specific help, please encourage them to contact us directly via email.
4 | This is a private and exclusive community, strictly for paying members (who are up to date on their payments) and students or graduates who have paid in full. We reserve the right to remove any posts or members who are not abiding by our guidelines (below) or in good standing with their payments.
We ask that you abide by these guidelines at all times.
Be inclusive. The community is just that—a community. We want everyone to feel included in the conversation. This is not a 1-on-1 coaching program, so please don't tag Elise or Scott to answer your specific question. Doing so actually discourages other community members from wanting to share their opinions. Instead, use the community as a vast resource of ideas and perspectives.
Be nice. We believe in building people and businesses up, not tearing them down. This group exists to promote positivity, so gossip/complaining/negative energy are not permitted. If it isn't kind, it shouldn't be said.
Be generous. Remember, generosity is the key to community and growth. So give more than you get through encouragement, inspiration, and kindness. This is not the place to promote you or your product, but to share encouragement and wisdom. As with all communities, this space functions just like a relationship with a dear friend. If you're only ever coming in to ask people to help you with your problems, over time, you'll get fewer and fewer responses. Instead, take the time to invest in the community, build relationships, and share in others' journeys. Because the more you approach this community (and your business) with a BETTER TOGETHER perspective, the more support + encouragement you'll receive in return.
Be concise. This community is full of creative entrepreneurs working hard to grow their businesses. Most people don't have time to read posts that are multiple paragraphs long and thoughtfully respond. As a result, longer posts tend to receive less feedback. So please be as concise as possible, making sure to organize your thoughts, and review + edit what you write before posting (which shows community members that you value their time and energy), while still providing enough context. Remember: More is not necessarily better, but giving the community context for your question is vital to receiving the help you need.
Be understanding. Everyone in this group comes from different backgrounds and different places in life. Please treat each other with respect, whether or not they share your same viewpoint or opinion. Our community should always feel loving, understanding, and non-judgmental.
Be respectful. This is not a place to sell to each other, contact each other without permission, etc. Please respect each other's words, ideas, time and businesses. Be ethical and above reproach with the content you learn from this group and from each other.
Be awesome. You're here because you have something unique and original to offer the world. So relax, stay awhile, and remember: We're all in this together.
once you're inside the group
Make sure to introduce yourself and follow these two steps.
1 | Make the group easy to find! From your desktop, hover over the Shortcuts list on the left side of the page until the Edit link appears. Once you click it, it will give you the option to be PINNED TO TOP, so that this group doesn't get buried or hidden from view. You'll definitely want to come back here time and again for encouragement, a helping hand, etc. Staying in-tune with the group will be essential once the program starts!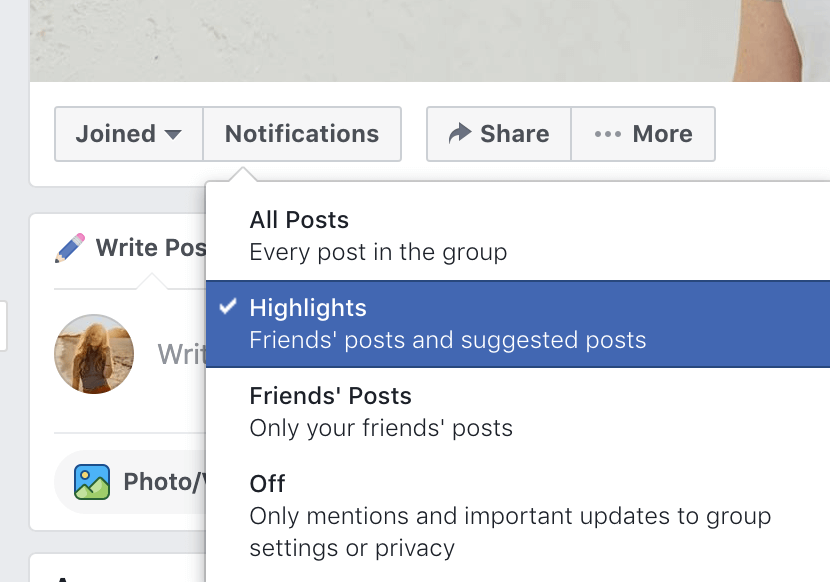 2 &nbsp|&nbsp Choose how much you hear from the group! We highly recommend turning on notifications to at least the "Highlights," so you won't miss out on the most important posts. But you can also adjust this so you can see more (by selecting "All Posts") or less (by selecting "Friends' Posts" or "Off"). If you select "Off" you will never be notified when anything happens in the group. All this to say, we recommend "All Posts" or "Highlights" if you want to stay connected to the community + in the loop!